1. Action name
1.1. What
Decrease the amount of wasted paper from IES Students
1.2. Why
Cost efficiency
Lessen IES's carbon footprint
Overall more sustainable
Americans use more than 90 million short tons of paper and paperboard.
Paper fiber can be recycled 5-7 times before they are too short to be recycled anymore!
17% of the world's wood is used for paper making
The U.S. is the world's leading producer of paper and paperboard, with over 500 mills in operation. Worldwide, there are approximately 10,000 paper and paperboard mills in operation.
1.2.1. Potential Benefits
Cut the costs of paper down, help IES become a more sustainable program
1.2.2. Potential Costs
None, other than the regular budget of paper.
1.3. How
Configure printer to print double sided
Currently, our printer at IES is double sided printing capable, yet no one seems to know how to turn it on. According to student council there is a way to do so, but it requires a technician to come in and set it up. I think that this action could be pretty simple, since all we would really need to do was get IES to finally get in contact with the right people so we can stop wasting silly amounts of paper.
Create flyers to inform students how to print double sided/print more sustainably
A flyer will hang above computers that notifies students how to print double sided manually (in case the printer is not configured by next semester). Also, it will make the suggestion of how to print power point slides on one piece of paper, as well as the location of recycling bins in IES as well as the streets of Barcelona. These flyers will hang above the printers for all to see.
Control the amount of paper students can use for printing
Since it is quite easy to waste paper as of right now, It has been suggested that IES barcelona put a limit on how much paper they provide for each student for printing purposes. The way that they can control this issue is to give each student an alloted amount of paper upon arriving to BCN (perhaps one ream), and they will be able to do with this paper as they choose. By doing this, we can possible help control the amount of paper that is wasted by each student.e ~/tc~
1.1. References & Links
PAPER FACTS – Paper University
http://www.tappi.org/paperu/all_about_paper/faq.htm
1.2. Students involved in this action
Amanda Vitullo- official leader. Created the flyers for the computers, met with IES student council and Betsy for the suggestion of providing students with one ream of paper
Lacy Kelly- provided factual information about the damage of paper on the environment as well as design help.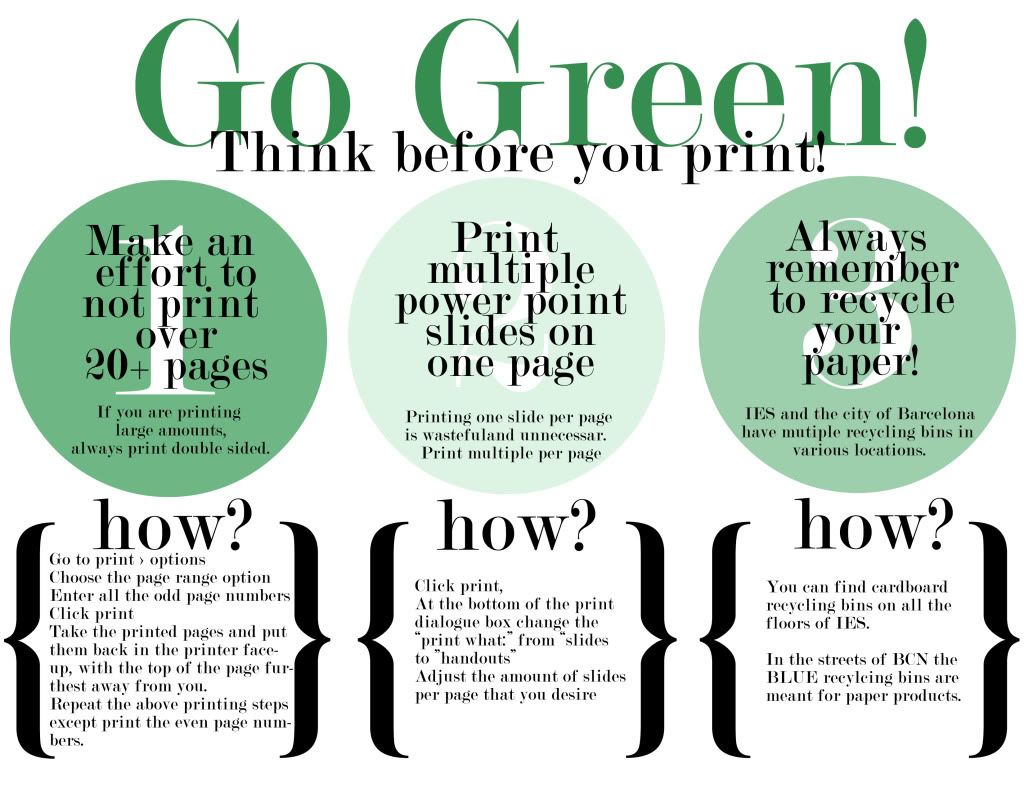 Assignment 8: Peer review form
You do not have permission to insert an item